Our three-night family dogsledding program BEST OF ARCTIC LAPLAND gives parents and kids a chance to bond through adventure while experiencing the beauty of the Arctic wilderness in safety and comfort. Children often have a natural connection with our dogs and experiencing the wilderness up close encourages their appreciation of the world around them. At our private Väkkärä Lodge wilderness retreat a multitude of activities are available to keep the most restless of feet occupied. In the evenings you will enjoy relaxation in the hot sauna followed by great meals for the whole family.
BEST OF ARCTIC LAPLAND
The Best of Arctic Lapland excursion is tailored especially for families and combines exciting outdoor adventures and great learning experiences with comfortable wilderness accommodation. The stunning scenery and the  activities in winter wonderland will wow and inspire guests of all ages and allow you to reconnect with Nature and with members of your family.
Fjellborg Arctic Journeys is a family based company and with three young daughters, who have all recently begun to mush their own teams of sled dogs, we know the importance of creating fun, varied and safe programs that provide guests all of ages with an experience they will never forget!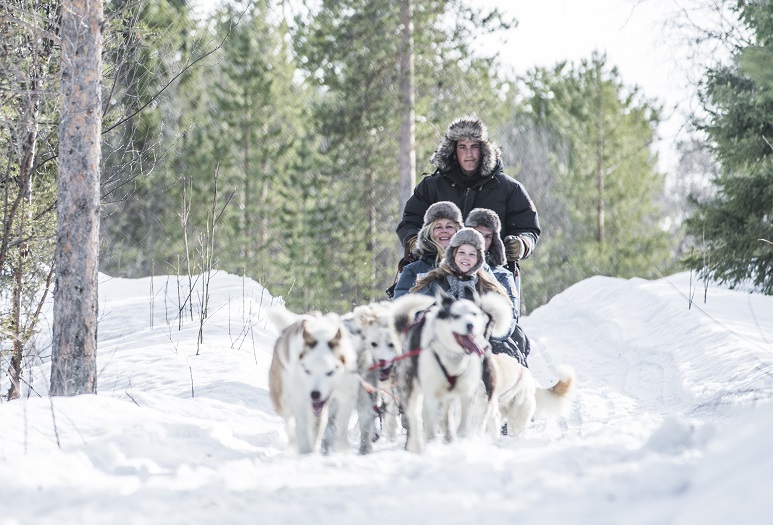 Excursion Itinerary
Day 1
The program begins at Kiruna airport where your private guide is ready to drive you to the Fjellborg Homestead in Poikkijärvi, approx. 20 min away. At the Homestead you will change into Arctic clothes and enjoy a guided tour of the kennel which is home to a large family of Alaskan huskies. The Fjellborg huskies grow up with the family's own children and are social by nature. They love the attention they receive from our guests.
After lunch, kids will have a chance to drive a kid-sized snowmobile and experience the thrill of mushing their own small dog team on a kid-sized sled down the snowy trail. Our friendly huskies love children and the teamwork between kids and dogs is always amazing. The night is spent in comfortable private accommodation with access to a sauna.
Day 2 -3
In the morning of the second day we will travel by dog sled to our comfortable Väkkärä Lodge, which has a peaceful shoreside setting by Lake Väkkärä. You can choose between driving your own team or riding as a passenger in the sled. The sled is lined with reindeer hides and your Arctic clothing will keep you warm in any weather.
During your stay in Väkkärä your accommodation is in a cosy and private log cabin. The meals are served in the main building, where you will be invited to sit down for great family meals, featuring exciting delicacies from the northern cuisine.
On day 3 we pack the sleds for a half-day dog sledding trip in the pristine wilderness that surrounds Lake Väkkärä. The trip is tailored especially for families and regardless of weather you will stay snug and warm in the sled while the team and your professional guide take you on an exciting adventure. Halfway into the trip we stop to enjoy a hearty lunch by a warming campfire. There will be plenty of opportunities to interact with our well-trained and affectionate huskies. In the evening a hot sauna awaits at the lodge before dinner. Don't forget to watch out for the northern lights at bedtime!
Day 4
After breakfast on the final day, we hit the trail again and enjoy a fun dog sled ride back to the Fjellborg Homestead and kennel in Poikkijärvi, where the adventure ends as you say farewell to the dogs in their home environment. If you are departing from Kiruna airport on the same day, you will receive a transfer to the airport in time for your flight.
DETAILS
Price: 17,900 SEK per person. Children under 12 years of age pay 50% of the adult rate.
Min Persons: 2 (all tours are privately guided and operated exclusively for your own private party, minimum group size 2 persons)
Difficulty: Mild. Minimum age to drive your own dog team is 12 years. Young kids, and adults who prefer not to drive their own team, ride comfortably as passengers in the guide's dog sled.
Duration: 3 nights / 4 days. The program starts around noon and ends at noon on final day, unless otherwise specified.
Departure dates: Dec 1 to April 20
The program includes: Transfers from and to Kiruna airport, Arctic clothing and gear, all meals and beverages, all accommodations and activities, and the services of Fjellborg Arctic Journeys' guides. Swedish value added tax (VAT) is included in the price.